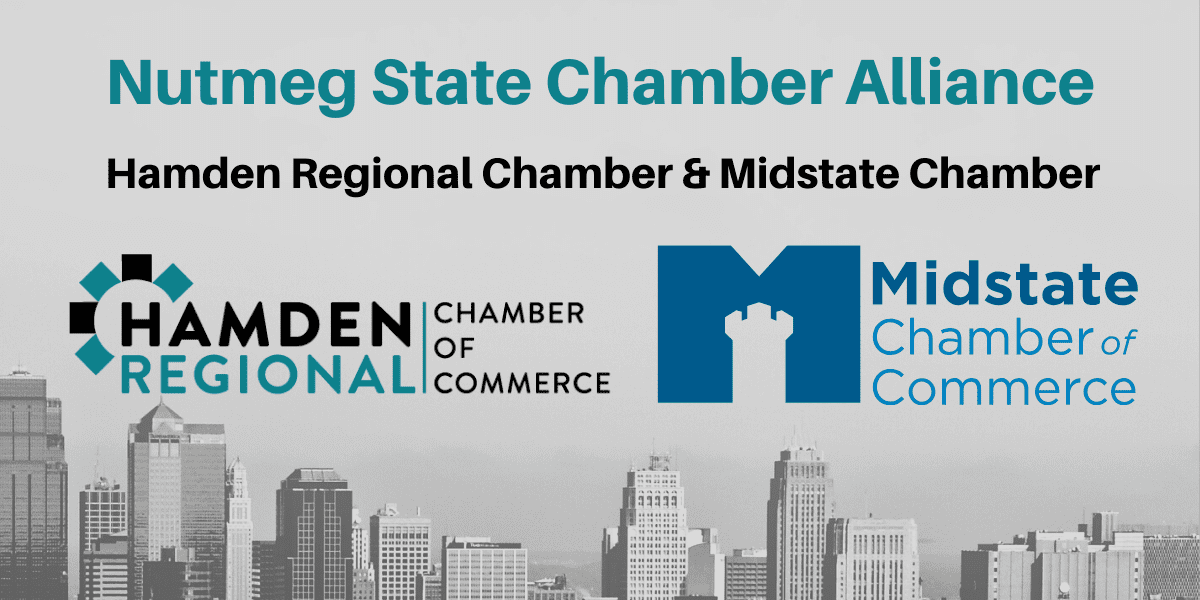 The Midstate Chamber of Commerce and the Hamden Regional Chamber of Commerce announce the creation of the Nutmeg State Chamber Alliance
The Hamden Regional Chamber of Commerce and the Midstate Chamber of Commerce are pleased to jointly announce the creation of the Nutmeg State Chamber Alliance. This partnership is not a merger but is a deliberate and a concerted effort to best support individual chamber members on both a local and a regional basis. Click HERE for full press release!
About the Partners:
The Hamden Regional Chamber has been one of the region's powerful economic drivers for more than 90 years.  Founded in 1925, the Hamden Regional Chamber of Commerce, now has more than 400 members and growing.  The Chamber is an inclusive culture of "pay it forward" business professionals that nurtures and supports our diverse business community in Hamden and all our surrounding towns.
The Midstate Chamber of Commerce, with its headquarters located in Meriden, Connecticut was founded in 1896, and is the leading business membership organization in the mid-state Connecticut region with over 550 active members. The mission of the Chamber is to Advocate for, Promote, Educate and Connect our members and communities.
Contacts:
Nancy Dudchik, President of the Hamden Regional Chamber of Commerce: (203) 288-6431
Rosanne Ford, President of the Midstate Chamber of Commerce:                  (203) 235-7901
Ian Williams, Chairman of the Board of the Hamden Regional Chamber Board of Directors: 203-530-1786
Nathaniel Bottone –Chairman of the Midstate Chamber Board of Directors: (203) 630-0181
Here is a current list of members of the Hamden Regional Chamber and the Midstate Chamber that are taking advantage of the dual membership offered through the NUTMEG STATE CHAMBER ALLIANCE. Increase your networking reach and business visibility. You can take advantage of this partnership at any time. We are currently offering an Alliance special rate of only $125. Contact the chamber office today.
A & A Office Systems, Inc.
ACHIQ Designs, Inc.
ACORD, Inc.
Aeroswiss
Alan Barberino Real Estate, LLC
Alliance All Trades
Always Best Care Senior Services
Apple Rehab Coccomo
Area Cooperative Educational Services
Assisted Living Services Inc.
B & L Financial Architects
Beecher and Bennett, Inc.
Bergvik Counseling Services, Inc.
Bomb Wings & Rice Bar
Bongiovanni Insurance & Financial
Bongiovanni, Sloan & Paradiso Insurance
Bouvier Insurance
Central CT Transportation, Inc.
Colonial Flooring America
Comprehensive Orthopedics & Musculoskeletal Care
Concentra Medical Centers
Connex Credit Union – Meriden
Country Flower Farms
Crossroads Driving School
Department of Rehabilitation Services (DORS)
Elim Park
Ferazzoli Imports of New England
FillerUP, Inc.
Fosdick Fulfillment Corporation – Wallingford
Friends of the Meriden Public Library
Full Power Radio/Radio104.1
Green Olive Diner
Hancock's Pharmacy & Surgical, Inc.
Heart Peace Therapeutic Massage
Institute of Professional Practice, Inc.
Ion Bank
ISG Software Group, LLC
ISOE COmmercial Capital
IvyRehab Wallingford, LLC
James T. Kay Co. Inc.
Joseph A. Conte Jewelers
L.Suzio York Hill Companies
Law Offices of E.B. Quirk, LLC
Liberty Bank
Liberty Bank – Meriden
Luby Olson, P.C.
Luchs Consulting Engineers/DeCarlo & Doll, Inc.
Masonicare
MembersFirst CT Federal Credit Union
Meriden Economic Development Corporation
MidState ARC, Inc.
MidState Gastroenterology Specialists, P.C.
MidState Medical Center
Mirion Technologies, Inc.
MR Cleaning Services
PALS Power Washing, LLC
Polish National Alliance – Lodge #513
Prentis Printing Solutions, Inc.
ProHealth Physicians Express Care/Walk-In
PROSHRED SECURITY
Ray Valenti – RE/MAX Professionals
Regency House Nursing and Rehabilitation Center
Ryan Oil Company, Inc.
Saint Andrew's Church
Silver City Furnace Co., Inc.
Specialty Wire & Cord Sets, Inc.
Stamford INsurance Group – SIG
Suzio Insurance Center, Inc.
Toyota Oakdale Theatre
Traveling BnB, LLC
Ulbrich Stainless Steel and Special Metals, Inc.
Updike, Kelly & Spellacy, PC – Hartford
Village at Kensington Place
VR Game Truck New England
Whitney Rehabilitation Care Center
Workforce Alliance
Yac Promo Items by Lori