13th Annual Hamden Restaurant Week
Presented by: Bankwell
Mon, October 16 – Sat, October 21
Join us in celebrating Hamden Restaurant Week presented by Bankwell set for the week of October 16 – October 21.
Restaurants all over Hamden will be featuring either a buy one get one option or three-course prix fixe menu consisting of an appetizer, entrée and dessert.
Prix Fixe menus will be priced at range for LUNCH between $9-$16 and for DINNER ranging between $20-$36.
Download the Hello Hamden App
 New this year! You can see all the menus and offerings on the Hello Hamden App.  Just download from the App store, open the App and you'll see a section just for Restaurant Week.  You can also vote for your fav! Check it out! 
Live Music & Entertainment During Restaurant Week
The Chamber is excited to partner with Hamden Department of Arts & Culture and the Hamden Arts Commission who will be featuring live music and entertainment from local Hamden musicians at many of our participating restaurants. See below for schedule.
Participating Restaurants!
Live Entertainment Schedule
Wood n Tap – October 17th from 5pm – 7pm – Thomas Fortuna Band
Aunt Chilada's – October 18th from 6pm-8pm – Sal Grillo
Ixtapa Mexican Family Restaurant – October 19th from 6pm-8pm – Sean O'Reilly
Playwright Irish Pub & Restaurant – October 20th from 7pm-10pm – Liz McNicholl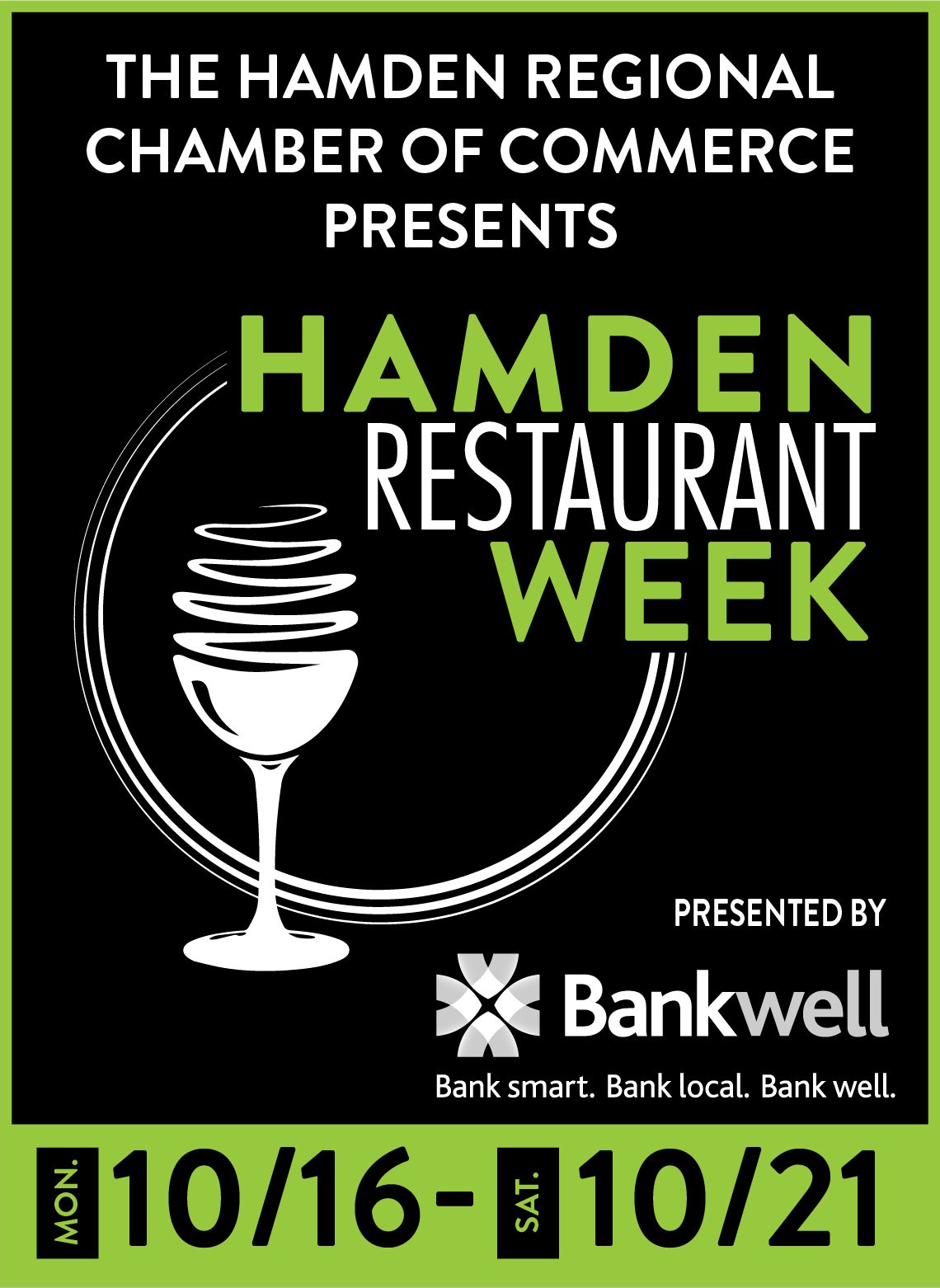 Thanks to Presenting Sponsor, Bankwell
The Hamden Regional Chamber of Commerce and presenting sponsor Bankwell are pleased to announce the 13th Annual Hamden Restaurant Week, from Monday, October 16 through Saturday, October 22, 2023.
"We are delighted to work with Bankwell again. This is the eight year that Bankwell has partnered with the Chamber to sponsor this important annual event," said Nancy Dudchik, HRCC President.  "Thirteen years ago, when we launched Hamden Restaurant Week, we never would have expected it to grow as much as it has.  With so many diverse and new restaurants offering unique options, this week has become a yearly destination for people, from all over the state, to come and experience Hamden's local eateries.  We encourage the community to come out especially this week and support local dining!
"We always look forward to supporting this wonderful event and the local restaurants in Hamden.  It's an ideal way to discover new restaurants or revisit old favorites and at such great prices," stated Beth Iannone, Market Manager, Vice President at Bankwell.
Restaurant Week is open to any restaurant or eatery in Hamden; participating restaurants agree to offer a range of either a $9 to $16 prix fixe lunch, a $20 to $36 prix fixe dinner or both.  Please visit www.iloverestaurantweek.com for a full list of participating restaurants and their offering.
We're looking forward to promoting all our area restaurants for this un-fork-edible week!