Madras. First, the correct pronunciation. Is it MAD-russ, or muh-DRASS? Merriam-Webster says the latter, but dictionary.com says the former. It may depend on whether you are naming the city or the fabric. Even though the fabric got its name from the city. According to gentlemansgazette.com in 1626 the British East India Company (famous for its success in the opium wars in China, and its imperialism everywhere) discovered the Indian village of Madraspatnam, where the locals manufactured a calico cloth "so much desired," according to Francis Day, an officer of the Company.  The original fabric was overprinted or embroidered in elaborate patterns using vegetable dyes. The quality of the water had a significant impact on the colors, so the local weavers had to know which water would produce a certain color.  The plaid colors that we currently associate with madras were a later development, the result of a tartan craze started in 1822 when King George IV visited Scotland.
Although madras fabric appeared in the US as early as 1718, as part of a donation made to the Collegiate School of Connecticut by then Madras Governor Elihu Yale (yes, Gov. Yale later lent his name to the Collegiate School), it really started to gain popularity in the 1930s, when Ivy League students would return from vacationing in the Caribbean, wearing their madras purchases (and thereby proclaiming their wealth). One problem, however, was that madras cloth, if not washed properly (in cold water), would bleed. Turning a problem into a marketing gimmick, Brooks Brothers and Seventeen Magazine (no, really) collaborated on an article in 1958, bragging in a photo caption that the material was "guaranteed to bleed." How to tell if it is true madras? Is the pattern the same on both sides of the cloth?  That is the mark of true madras.
For the past three years, at the Hamden Regional Chamber's Annual Golf Tournament, emcee Ray Andrewsen – Station Manager at WQUN, and owner of a voice so perfect for radio that Gugliemo Marconi must have had Ray in mind when he invented the radio – has auctioned off a beautiful madras jacket, proceeds going to the Make A Wish Foundation.  In 2014, I was the proud winner, though of a jacket intended for someone about twice my size.  In 2015, Mike Coassin won the jacket, and this year's winner was Ross Cooper of iHeart Media.  Ray seems to have an endless supply of madras jackets, good news for the Chamber, and for Make A Wish.
---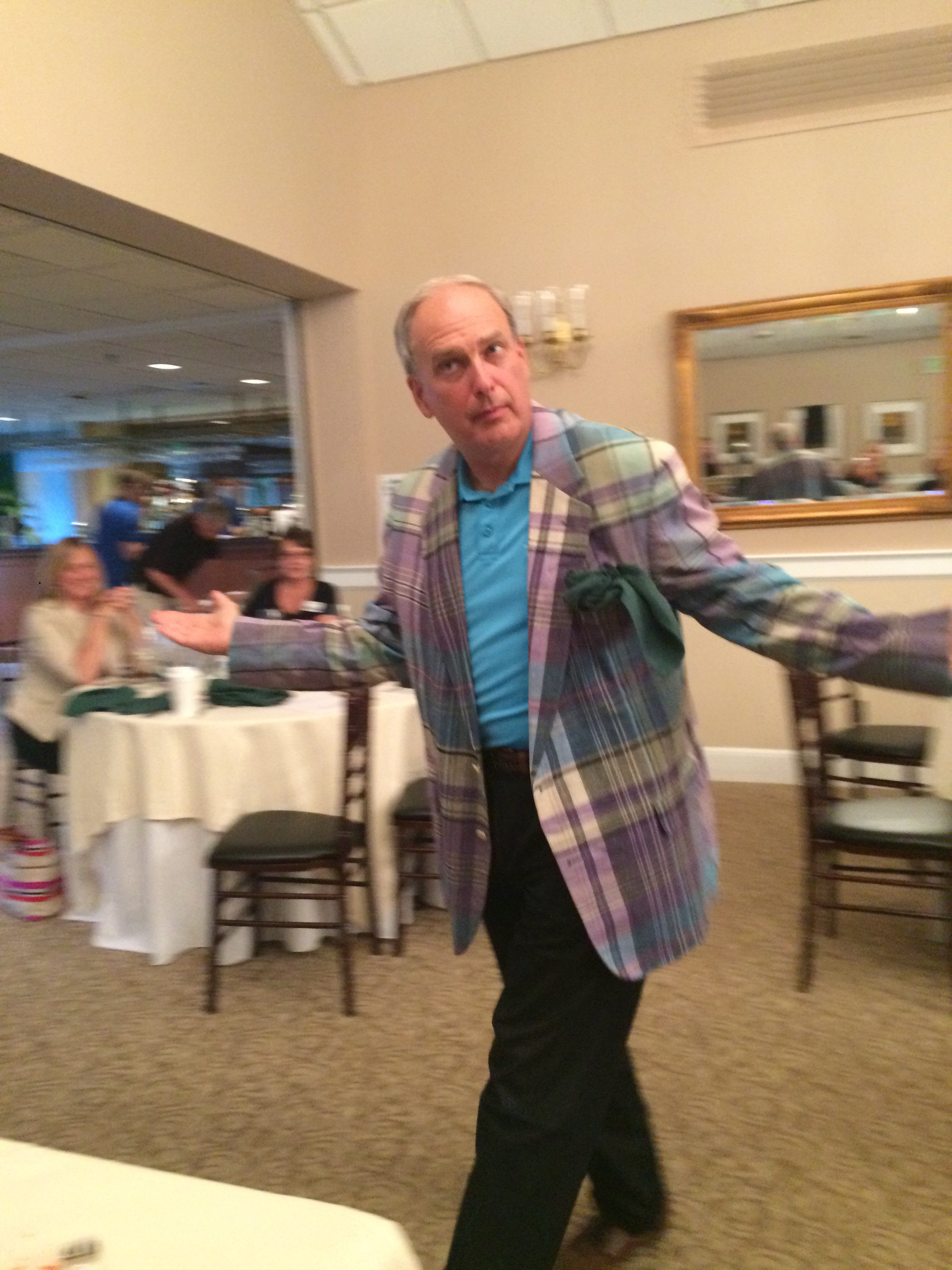 Emcee, Ray Andrewsen General Manager & Host of AM 1220 WQUN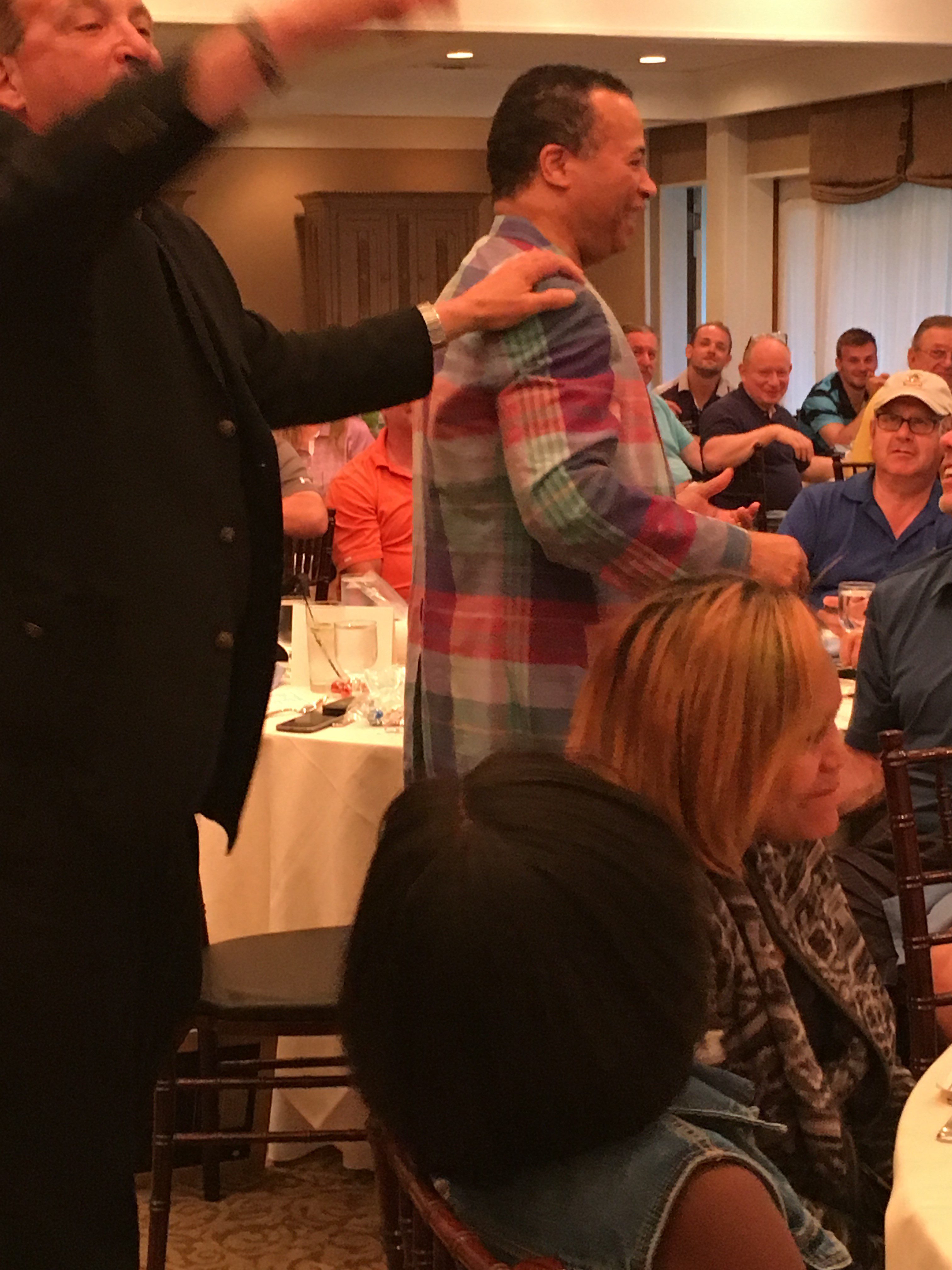 Presenting Sponsor Steve Zion, Toyota of Wallingford & 2016 Madra's Jacket Winner Ross Cooper, iHeart Media.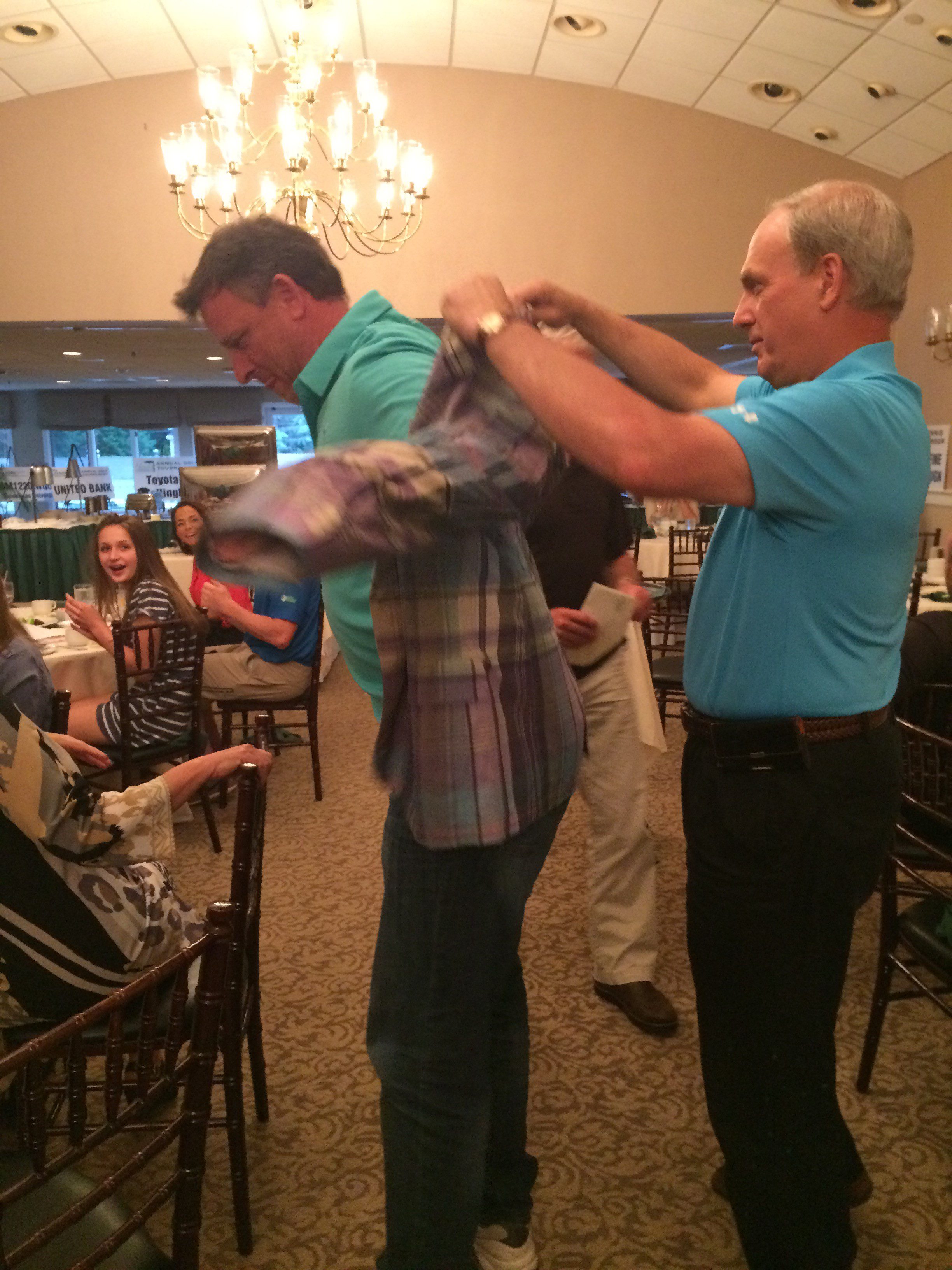 2015 Madra's Jacket Winner, Mike Coassin