2016 Business & Community Expo April 13
Where Will YOUR Booth Be?
Showcase your product or service at CFC Arena during a full day of exhibits, plus speed networking, and Best Bites After Hours.
Reserve a Spot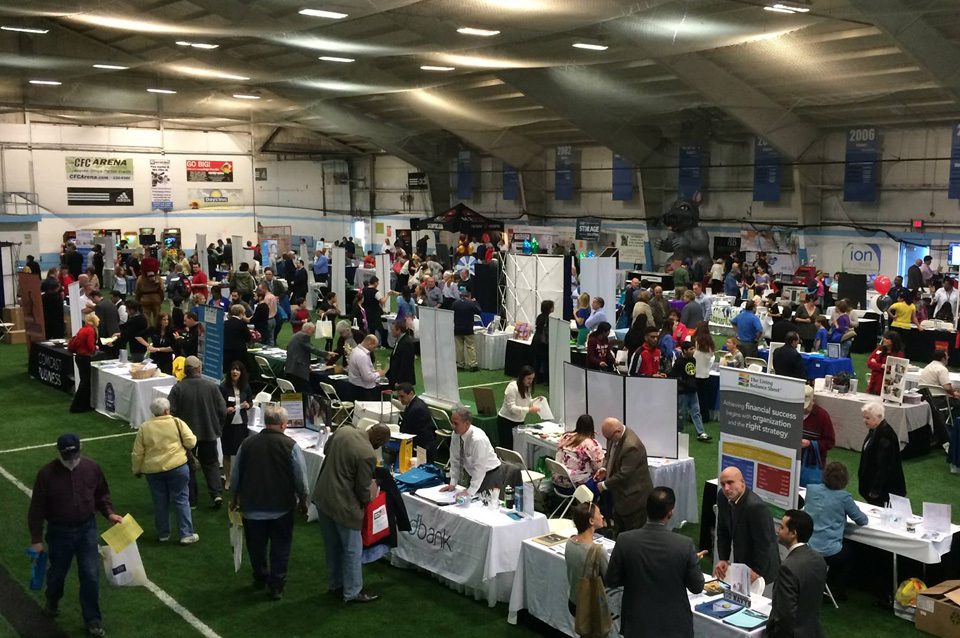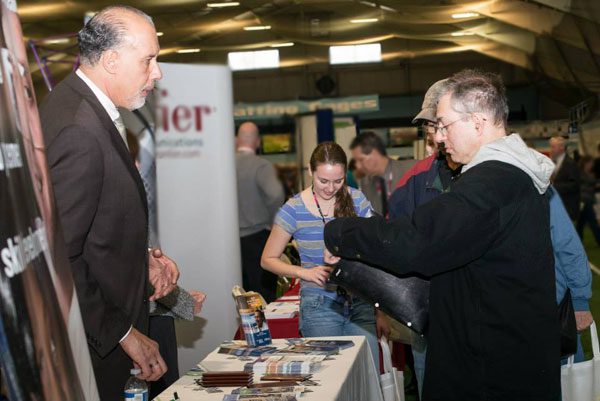 Your competition will be here...
will you?
Top 9 Reasons to Attend or Present at the Chamber Business & Community Expo
Over 2,000 people in attendance
Proven exhibitor participation of over 115 vendors for the past 12 years
Increase business visibility to three markets; Exhibitors, Business Professionals & Community
Connect with potential new customers & clients
Kids Zone to keep kids occupied while adults browse and connect.
Retail businesses can SELL their products.
Job fair and employment seminars for general public and veterans, bringing veterans and families from across the state to the EXPO!
Business After Hours: Best Bite & Brew Contest from area restaurants
Booth Contest: First place exhibitor booth with the most eye-catching display will be awarded a complementary booth for the next year's Expo.
Join us on Wednesday April 13, 2016
Contact Us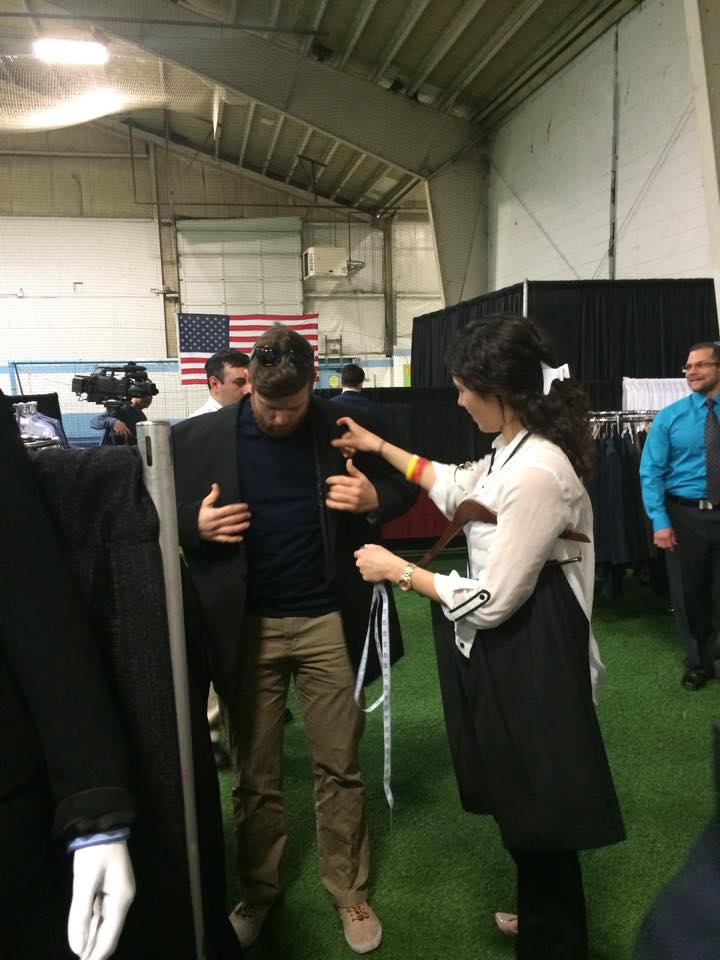 ATTN: Veteran Job Seekers
What You Can Expect
Job opportunities
Job search workshops
Professional photos
Free suits
Example Workshops for Veterans
Transferring Military Skills to the Civilian Workforce LinkedIn for Personal Branding Marching Towards Entrepreneurship
2015 Career Service Exhibitors & Sponsors
Albertus Magnus College – Attababy Jobs – Chief Army Reserve – CT Department of Labor – CT Works/Workforce Alliance – D'Camm Ltd – Easter Seals Goodwill Industries – FedEX Ground – Frontier Communications – New Haven & Stamford – General Dynamics / Electric Boat – MW Financial Group/Guardian – Neopost USA – New York Life Insurance – People's Products – Primerica Financial Services – Quality Hyundai – Save A Suit – Security Services of Connecticut – U.S. Army
Download Job Fair Info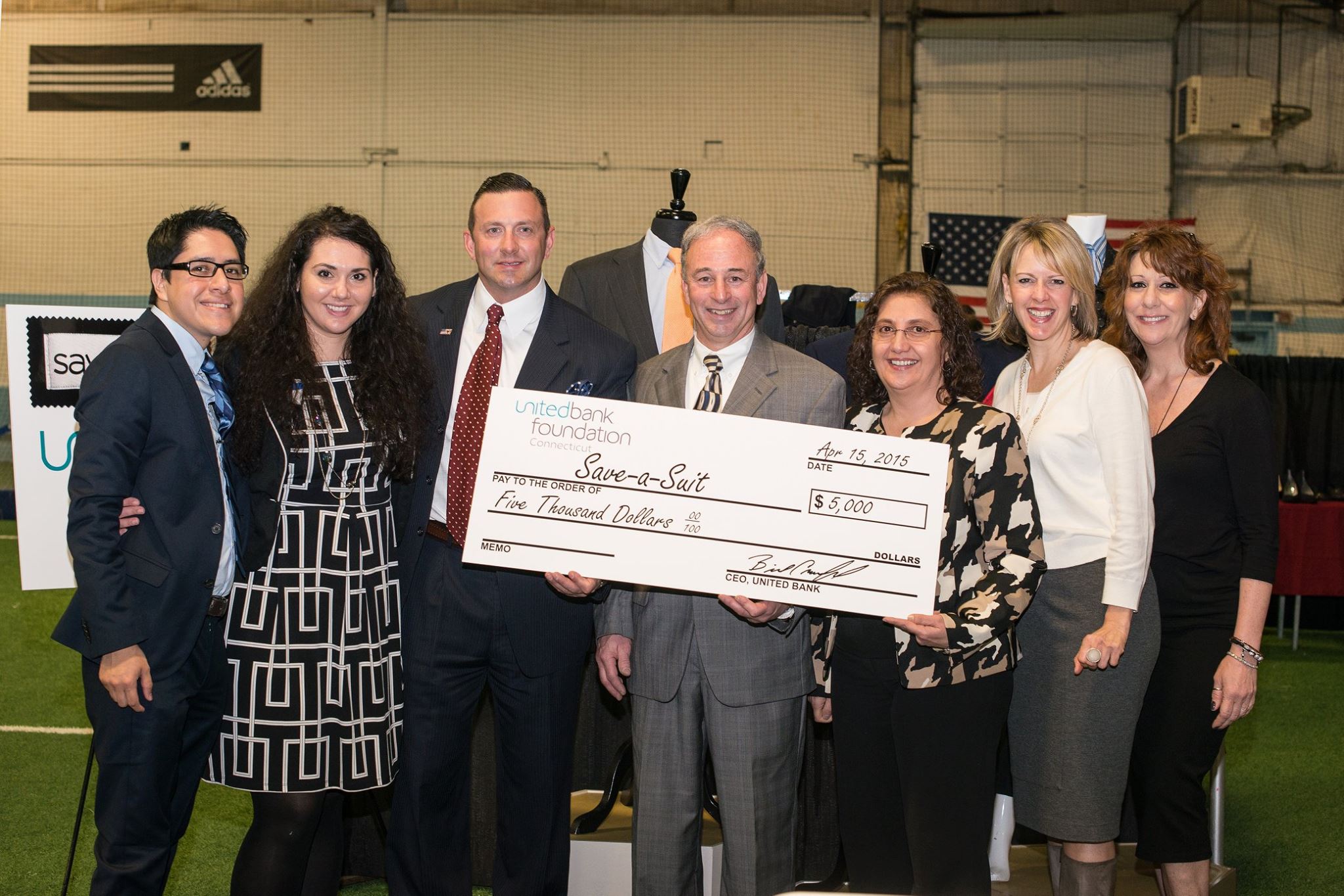 Thanks to Save a Suit
Bill Early and Dolores Bitz presented a check at the EXPO to Save A Suit Founder, Scott Sokolowski & Executive Director, Jessica Ewud. Their support will help ship many suits across the country for Veterans for their job search.
Best Bites & Brew After Hours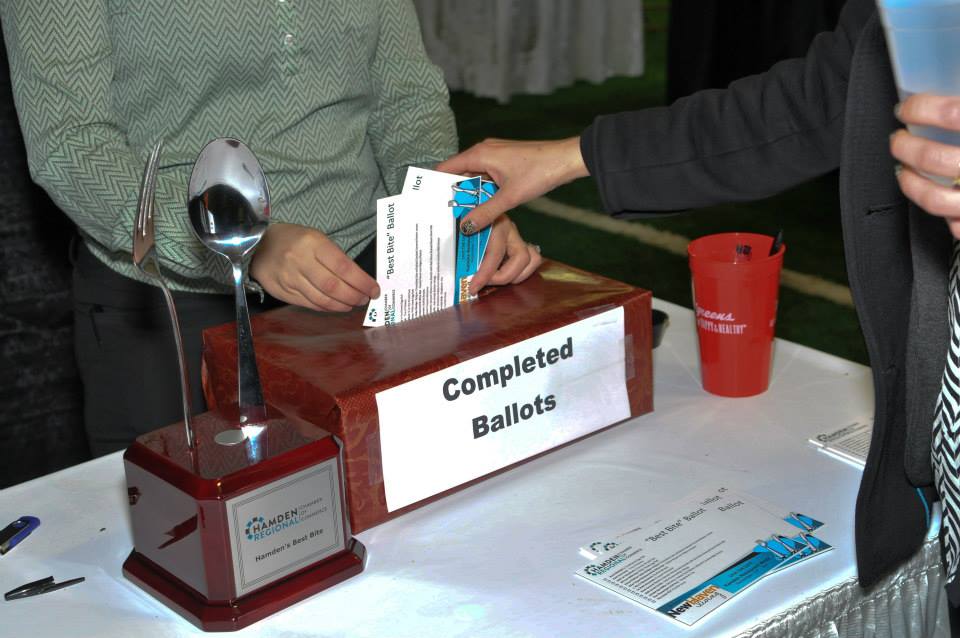 The Best Bites and Brew Competition features numerous member restaurants, plus wine tastings and samples of craft beers from Connecticut breweries. Thanks to New Haven Living Magazine for their generous sponsorship of this event.
2015 Best Bites & Brew Winners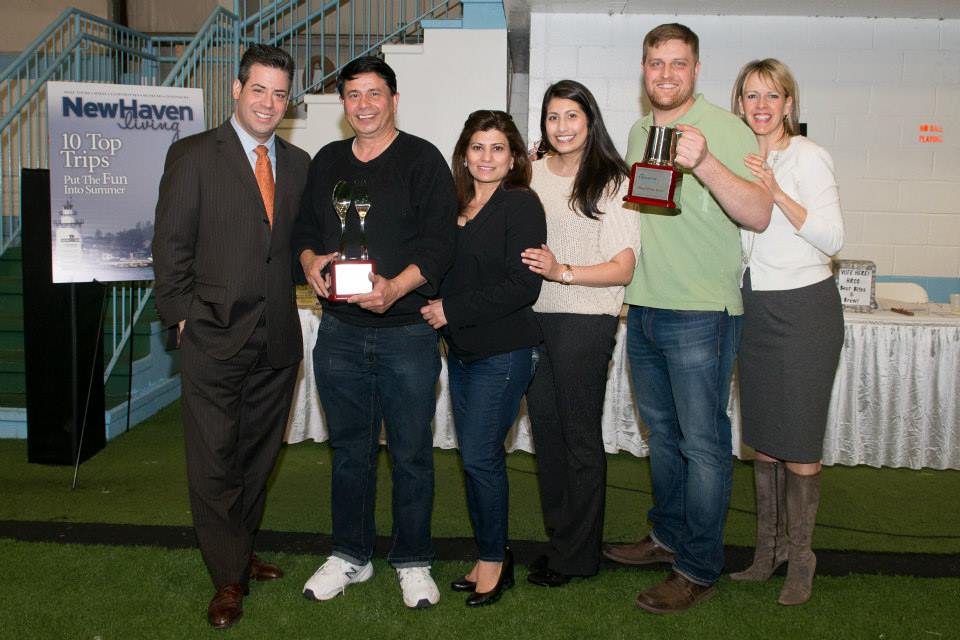 2015 Best Bites & Brew winners, Ali Baba Fusion of Hamden and Black Hog Brewery of Oxford, pose with MC Matt Scott, and Chamber president, Nancy Dudchik.
Average Valuable Connections